Vip ships in bottle
There are situations when a very expensive gift for a manager, business partner, statesman needed. In this case, the Master has to offer vip ship in a bottle, which includes several unique features:
Model sailboat made with a high amount of details and the study of their. (foto)
The model uses a mammoth ivory. (foto)
Rack of expensive materials (rosewood, wenge, etc.)(foto)
In the stand's used exclusive figures silvered mermaids do not apply to the main line ships.(foto)
Unique packaging - sea-chest of natural oak with velvet cradles under model(foto)
Individualization model: name to bestow on the flag and nameplate with your text on the stand.
1,5L bottle of quartz glass. Its length with cork - 29sm, height - 15sm, width - 6sm.
Bottle shape is flask. Cork sewn inside by large nail.
Cost with all options is 2300$.
Manufacturing period is from 2 to 3 months .
Given the high labor intensity, the duration of the model, the high cost of materials, the price for businesses and government agencies author may enter into an official agreement with the individual (master) to perform a one-time operation, including advance payment of 50%.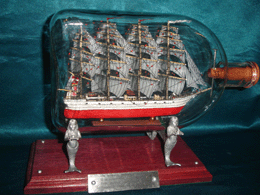 Offer is unique. Gentelmen, make a decision!
Yours respectfully , Vsevolod Gladilin.